Monroe, LA Wrongful Death Lawyer
Wrongful Death Claims
Any death of a family member is difficult. It can be especially heartbreaking if you know that the death was caused by another person's negligence, wrongdoing, or illegal behavior. Wrongful death cases are sensitive and require the utmost personalized attention, which is why you need to contact Parker Alexander. Our office understands that your situation can be devastating and that justice deserves to be sought for your loved one.
---
If you are currently experiencing the pain and frustration of an unexpected loss, do not hesitate to contact our Monroe wrongful death attorneys today at (318) 625-6262.
---
Wrongful Death Compensation in Louisiana
Many times following a sudden death, people may have questions regarding the validity of their case. When you retain the assistance of an attorney, they take on the brunt of the legal work, from determining who is liable for the death to pursuing legal actions against them.
You can focus on grieving, not on legalities. Our team is well-versed in various Louisiana laws, as well as federal regulations. When you hire us, we work diligently in helping obtain compensation.
Compensation in a wrongful death can help you and your family with:
Funeral expenses
Unexpected medical bills and insurance claims
Satisfy wills and trusts
Compensation for pain, suffering and loss
Expenses left behind by the deceased
You should never face insurance companies, hospitals, or medical providers alone. If you have questions, you need to contact Parker Alexander right away. We are here to help guide you through this difficult time.
Who Can File a Wrongful Death Claim?
In most cases, only people who are closely related to the deceased person can file a wrongful death claim in Louisiana. The state has a specific order of potential claimants to follow, too. If someone is eligible to file, they must first wait to see if someone else with a higher priority on the order wants to file on behalf of the deceased person or their estate instead.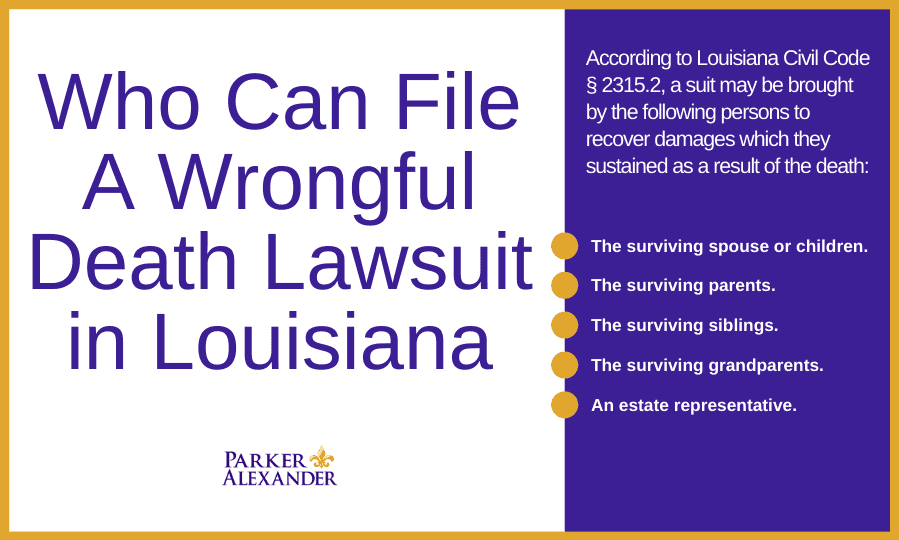 In Louisiana, the following people can file a wrongful death claim and in this order of precedence:
Spouse or children
Parents
Siblings
Grandparents
Estate representative
Louisiana Wrongful Death Statute of Limitations
It is also important to realize that Louisiana has a brief one-year statute of limitations on wrongful death claims. The statute will begin on the date of the deceased person passed away, not necessarily on the day of the accident that caused their fatal injuries or complications.
Once the one-year statute of limitations expires, any claim you bring against the liable party can be dismissed by the court without any chance of appeal or furthering the claim.
Contact Parker Alexander for a Free Consultation
At Parker Alexander, we understand that you may have concerns regarding your case and how you can move forward in obtaining the most from your suffering. You should not have to face this time in your life on your own. You need to work with our Monroe wrongful death lawyers. Parker Alexander has decades of legal experience in helping our clients receive the just compensation that they deserve.
---
If you are ready to move forward, or if you have more questions you would like answered, contact our office today at (318) 625-6262 and schedule a free evaluation with our wrongful death lawyers in Monroe.
---