A Tradition of Excellence
Holding ourselves to the highest standard of excellence and integrity.
Parker Alexander Scholarship Program
For Students in Northeast Louisiana​
The 2024 Parker Alexander Scholarship Program for students in Northeast Louisiana has been announced. We have always believed in the importance of supporting our communities and future generations, and our scholarship program, now in its third year, is the perfect way to do just that.
Each year, there will be two scholarship program winners:
1 grand prize winner: $2,500 scholarship
1 second prize winner: $500 scholarship
The application period begins every year on January 1st and ends on May 1st. If you are a college student or a graduating high school senior and you have a good idea to help improve traffic safety in our community, we would love to see your proposal.
---
For more information, you can call (318) 625-6262.
---
Congratulations to last year's Scholarship Program winners!
Francie Bishop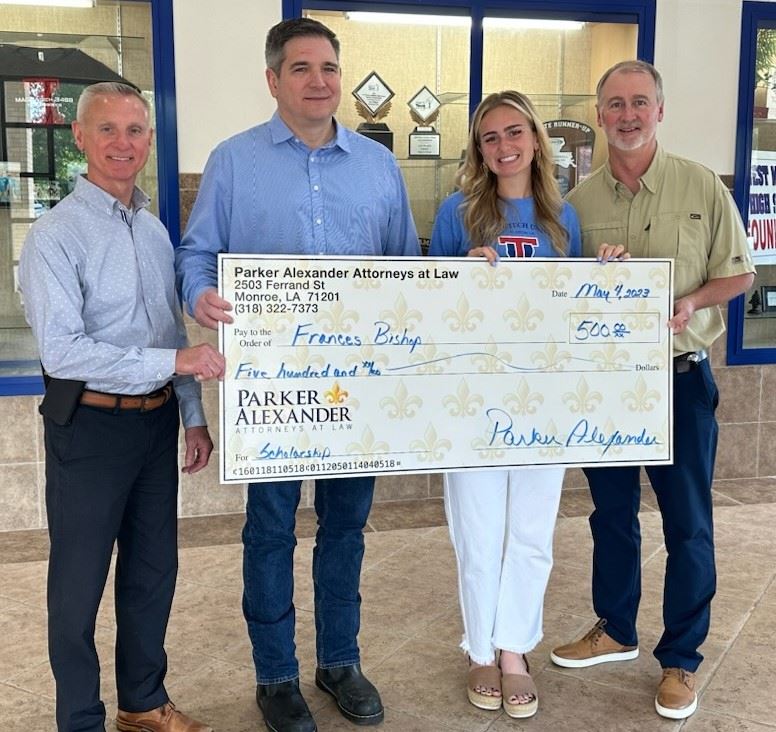 Natalie Brooks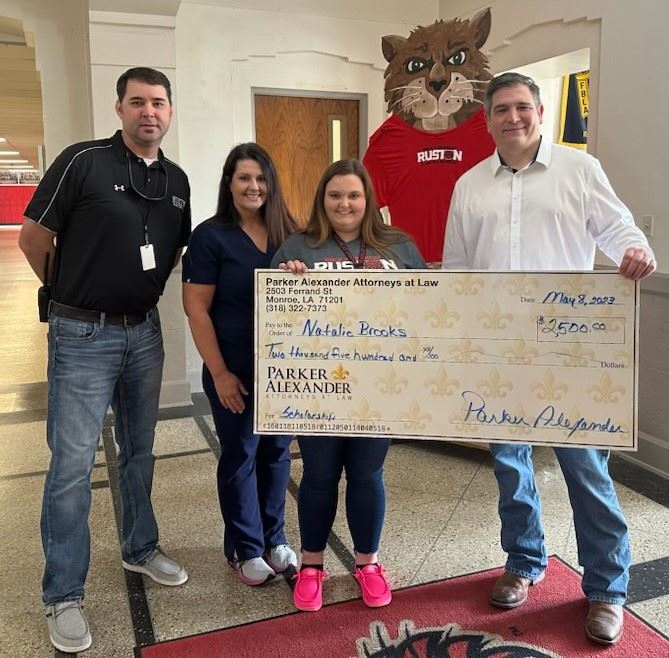 Important Scholarship Criteria
We are offering incredible scholarship opportunities to young learners who want to help make Louisiana a safer state for everyone. Each year, on average, there are more than 40,000 car accidents that cause serious injuries and more than 700 crashes that cause fatalities in Louisiana. We want to lower these numbers as much as possible, but we need your help.
When applying, you must submit an original essay that explains your proposal to improve traffic safety or reduce accidents in Northeast Louisiana. We will choose 2 scholarship recipients from the entries received.
Eligible applicants will meet these four criteria:
Legal resident of Ouachita, Lincoln, Jackson, Union, Caldwell, Richland, Morehouse, Franklin, Madison, Tensas, West Carroll, or East Carroll parishes.
Aged 16 to 26 and lives within the United States.
Enrolled in a college, university, trade school, or vocational-technical school; or is currently or soon will apply to one such educational institution.
Has not won an annual Parker Alexander Scholarship in the past.
We look forward to hearing from you and to helping support the future thinkers of Louisiana. From all of us at Parker Alexander, we wish you the best of luck!
Full information about the scholarship, eligibility, how to apply, and important legal considerations can be found by clicking here. Before you apply, please read the full terms and conditions.
Contact Parker Alexander Today!
Schedule a Free Consultation
No matter the accident, your case deserves attention.
Frequently Asked Questions
What Damages Am I Entitled to Recover?

If you have suffered an injury and require medical treatment, we can help you obtain compensation for past and future medical treatment. Additionally, we can recover past and future lost wages. General damages such as pain, suffering, loss of enjoyment of life, inconvenience, and emotional stress are also recoverable. In some cases, clients will be entitled to punitive damages (damages intended to punish the wrongdoer when the wrongdoer's actions were reckless or intentional).

How Do I Determine the Value of My Claim?

The amount of monetary compensation you are entitled to is dependent upon the unique circumstances involved in your case. Contact our attorneys today to schedule a consultation. We will review your case and determine what damages you're entitled to recover.

Do I Still Have a Claim If My Health Insurance Paid for My Medical Bills?

Yes, you may still file a personal injury claim even if your health insurance provider paid for your medical bills. You are entitled to the full value of your medical treatment. Meaning, the actual cost of treatment, not just the co-pay and deductible. Insurance carriers will attempt to reduce your damages by offering to pay out of pocket expenses. Do not allow your insurance company to treat you unfairly. Let us help you ensure you recover fair and just compensation.

Do I Need an Injury Attorney for My Case?

In most cases involving serious personal injuries, medical negligence, wrongful death, or other complications, it is highly encouraged that you work with an attorney. Legal representation can not only guide you in the right direction but help you obtain compensation for the wrongs that you have endured. Additionally, lawyers will fight for your rights as a victim and never leave you facing large corporations and insurance companies alone.